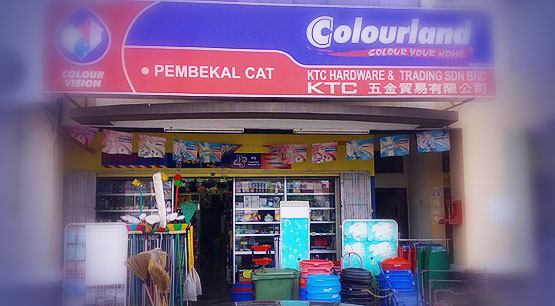 KTC Hardware & Trading Sdn Bhd was established in year 2002.  We are located at No. 21, Jln Suria 3, Bandar Seri Alam, 81750 Masai, Johor.  We are promoting the D.I.Y.(Do-It Yourself) culture whereby we are encouraging our customers to do their daily maintenance works by using tools provided by us.
关于我们
KTC 五金贸易有限公司创立于2002年。我们坐落于No. 21, Jln Suria 3, Bandar Seri Alam, 81750 Masai, Johor.  我们提倡D.I.Y.(Do-It Yourself) 文化,并鼓励顾客使用我们提供的用具来完成维修及保养工作。
Our Vision
To cultivate the DIY (Do It Yourself) culture for building an innovative, creative and self confidence society through our branches in Malaysia.
我们的愿景
通过我们在马来西亚的网络提倡D.I.Y.文化,建立一个具有创新精神、创意思维及富有自信的社会。
Our Mission Statement
KTC Hardware is a team of committed, positive and grateful people.  We will work within our cultures to make sure that our team members and our value customers will benefits greatly throughout our daily activities and in some way move to a higher level of self development.

We will always improving ourselves in terms of our products variety, quality, skills and knowledge in order to update and educate our customers who are believe in their ability  on how to start, what to use, how to use and indirectly save their hard earned money.  With our commitment, we are sure that our value customers will totally change their point of views on their self ability and the negative impressions on hardware industry. 

我们的使命
KTC 五金是一个坚定、积极及富有感恩之心的团队。  日常运作中,我们将贯彻自身的企业文化,让顾客及团队从中获益,从而促进自我成长。

我们将在产品的种类、 品质、相关技术与知识上不断提升,以便不时提供资讯,教育具备信心的顾客,使用正确的工具与步骤来完成维修及保养的工作, 从中节省金钱。我们承诺,将让我们的顾客们对自己的能力改观,并改变他们对五金业的负面看法。




Our Cultures 我们的企业文化



1. Commitment (The Golden Crown)
We give ourselves 100% of commitment to the vision, mission, cultures and the success of KTC Hardware, its team and its customers at all times.  We always do the best for the company and customers.
承诺~金皇冠
我们将给予KTC的愿景、使命、企业文化、顾客群及团队的成功100%的承诺。我们将把最好的呈献给公司和顾客。
2. Keep On Learning (The K)
We consistently improve ourselves in term of products, service quality, skills and knowledge.  We impact practical and useful knowledge to our customers in order to cultivate our D.I.Y. concept.
K - 不断学习
我们将在各类产品的知识、服务素质、相关技术及知识上不断提升。为了提倡D。I。Y。文化,我们会将实际有用的知识与技术传授予顾客。
3. Team Work (The T)
We work as a family and team work is our culture.  We are flexible in our works and able to face any challenges.  We focus on co-operation in order to achieve our vision.
T - 团队精神
我们在一个家庭里工作,团队精神是我们的文化。在工作上,我们能灵活地面对任何挑战。我们重视团队合作以达致我们的愿景。
4. Care (The C)
We take care of our customers' need.  We always deliver products and services of exceptional quality as to create a close and strong relationship with our customers.

Team members are the core partners along the way to fulfill our vision.  We treat everyone as our own family member and willing to take care of each others.
Clean and tidy are our cultures.  We always maintain our working environment in order and in the healthy condition.  We promote environment friendly and prevent pollution thru our daily operation.
C - 关心
我们关心顾客的需要。为了与顾客建立一个强而稳定的关系,我们时常为顾客们提供超值的产品与服务。
在迈向我们的愿景之路上,队员是我们的重要伙伴。我们将每个队员视为自己的家人,彼此互相照顾。
干净与整齐是我们的文化。我们不时保持工作环境的清洁与卫生。我们提倡环保,并在日常作业上尽量避免对环境的污染。
5. Gratitude (The Blue Colour)
We speak positively and politely to our team members and customers.  We are very grateful.  We say thank you and show appreciation often and in many ways, so that all around us know how much we appreciate everything and everyone we have in our life.
感恩 - 蓝色
我们心怀感恩,以积极有礼的态度对待顾客和队员。我们时常向周围的人与事表达谢意,以表示我们对生命中人与事的感激。